Apartments overlooking Lake Jasna in Kranjska Gora village
Services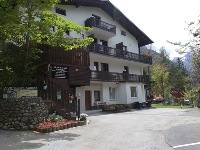 At Apartments Smolej we offer our customers modernly equipped double, triple and quadruple bed apartments, for low prices. Every apartment has cable television and Wireless connection to the internet. From your balcony you will enjoy the view overlooking pristine mountain and valley nature.
Our facilities also offer big parking space and a summer garden with an outdoor swimming pool and barbecue, ensuring fun and activities for the whole family.
On the terrace as part of the apartment house we offer you a private whirlpool with traditional Finnish sauna where you will have a view of a beautiful mountain landscape and Lake Jasna.












Location
We are situated in a peaceful environment overlooking beautiful Lake Jasna, mount Prisank and other high peak mountains in the area. The distance from us to the center of Kranjska Gora and its slopes is a good half mile or about 800 meters.
Activities in the area
The area in and round Kranjska Gora is a perfect place to spend your vacation either enjoying beautiful nature views from the village or making your stay as active as you want it. The valley and surrounding hills and mountains make for great tracking, cycling and downhill cycling on a regulated track, Alpine and Nordic skiing, sledding or concurring one or more nearby peaks.
Contact
ANDREJ SMOLEJ
Naselje Ivana Krivca 26a
4280 Kranjska Gora, Slovenia
Phone: 00386 (0)40 249 349
E-mail: apartmaji.kranjska.gora@gmail.com
URL: http://apartmaji-kranjska-gora-smolej.si/
Facebook: https://www.facebook.com/apartmaji.kranjska.gora.smolej